There are a lot of hotels in Guangzhou which is affordable for tourist and small businessman like me and you. It is comfortable and located within shopping area.



Located near Dashataou Lu, where two shopping complexes are located. If you are enthusiast of
camera, video, audio and its accessories, this the best place to stay. The hotel also located near the Highsun Fabric Plaza. Curtain,bed sheet and silk plaza. Taxi is available at anytime. Halal restaurant is just 3 minit walking distance.Wifi is available for free.
Jinjiang Inn Hotel Haizhu Square
It is the best economy hotel in Guangzhou. Rate with 3 stars, Jinjiang hotel located near the busy Haizhu Square roundabout. From there it is very convenient to visit at least 4-5 wholesale market which is along the Yide Lu.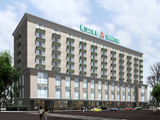 The hotel is located in Haizhu District, Guangzhou, with fantastic transportation facilities. The hotel is surrounded by Metro Line 2, Haizhu Coach Station, Guangzhou International Exhibition Hall. It also enjoys nice business environment such as Nantian Hotel utensil mall, Nanzhou automobile exchange, Jiangnan Wedding equipment mall, Shixi decoration material mall. Wifi is available for free.
Jinjiang Inn Hotel Sun Yat Sen Memoriall Hall
It is the best chain 3 star hotel in Guangzhou. Jinjiang Inn hotel is located at the strategic places which is near to Guangzhou Railway Station.From there it is easy to go to Cloth and Accessories Market in Liuhua Lu and Zhan Xi Lu.The hotel also is 7 minutes away from the Baiyun World Leather Plaza,Yuexiu Park and Saad Abi Waqqas Mosque